Qmee recipes – hoisin pork with garlic & ginger greens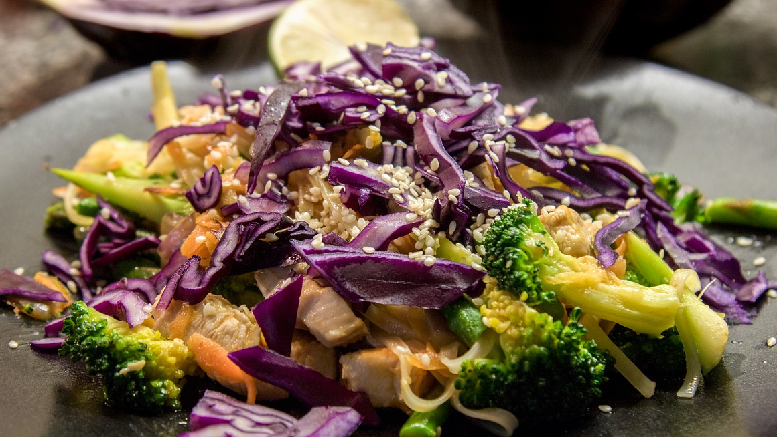 This recipe for hoisin pork with garlic and ginger greens is quick and easy to follow, and creates a delicious dish!
Marinate lean pork steaks with Chinese sauce then serve with plenty of bok choi cabbage for a quick, healthy lunch or supper whilst on-the-go. You can add rice or noodles as a side dish to make a bigger meal, or just have the dish with the yummy greens – it's completely up to you!
Take a look at the ingredients you'll need and the method you'll need to follow.
Here's what you'll need…
500g (1.10lbs) pork loin steak, cut into 2cm-thick slices
4 tbsp hoisin sauce
1 tbsp light soy sauce, plus a dash
350g (1.4 cups) thin-stemmed broccoli
1 tbsp sunflower oil
2 garlic cloves, thinly sliced
5cm-piece ginger, shredded
1 bunch spring onion, halved lengthways
350g (1.4 cups) bok choi, halved lengthways
Rice or noodles, to serve (optional)
Here's what you'll need to do…
1.Put the pork, hoisin and soy sauce in a bowl and allow to stand for 10 mins.
2.Heat the grill to high, shake off any excess sauce, then lay the pork on a tray. Grill for 5 mins, turning halfway, until cooked through. Remove and leave to rest in a warm place for 5 mins.
3.Meanwhile, put the broccoli in a microwave-safe bowl with 4 tbsp water, cover with cling film, then microwave on High for 3 mins.
4.Heat the oil in a wok, add the garlic and ginger, and stir-fry for 1 min. Add the spring onions and bok choi, then stir-fry for a further 2 mins.
5.Tip in the broccoli with a dash of soy sauce and stir-fry for 1-2 mins more until the veg is warmed through.
6.Serve the pork with the greens, a drizzle of any resting pork juices and rice or noodles, if you like.
(Source: https://www.bbcgoodfood.com/recipes/hoisin-pork-garlic-ginger-greens)