Qmee recipes: quick & easy! Pea & Parmesan pasta dish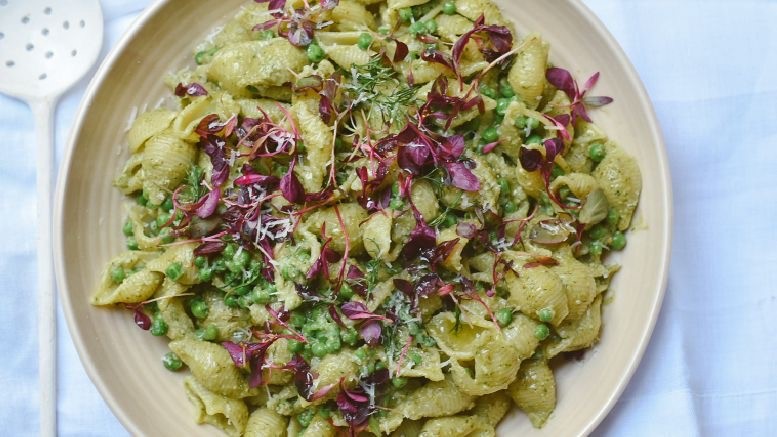 Our friend over at Sophie Sutton Nutrition has sent us another great quick and easy recipe this week – a brilliant pasta dish for the whole family.
Here is a pea and Parmesan pasta dish which is great for kids, also made from a jar of pesto at home and some store cupboard pasta. It has a few added nutrition benefits from the cashew nuts which are rich in zinc, lots of herbs and healthy fats from the avocado and peas. Really quick, simple and affordable way to feed a whole family.
Serves 6
Ingredients:
1 Pack of Shell Pasta or Pasta of Choice
300g (1.27 cups) of Frozen Peas
½ Cup of Cashews
½ Jar of Store-Bought Pesto
½ Avocado
Dill or any herbs you have
3 Tbsp of Olive Oil
Salt and Pepper
Juice of 1 Lemon
Parmesan Cheese
Method:
1.First soak the cashews in boiling water and set aside for 10 minutes.
2.Boil the kettle and place the pasta on the hob to cook per packet instructions.
3.In a blender add the soaked cashew nuts, the pesto, herbs, lemon juice, avocado salt and pepper.
4.When the pasta is nearly cooked add the frozen peas into the pasta pan. Once both the pasta and peas are cooked, save some of the pasta cooking water in a cup then drain.
5.Stir the pesto sauce into the pasta and peas, season to taste, sprinkle with herbs, lemon juice, olive oil and sprinkle over the Parmesan cheese. Spoon into bowls and enjoy!