Qmee Recipes – Sizzling spare ribs with BBQ sauce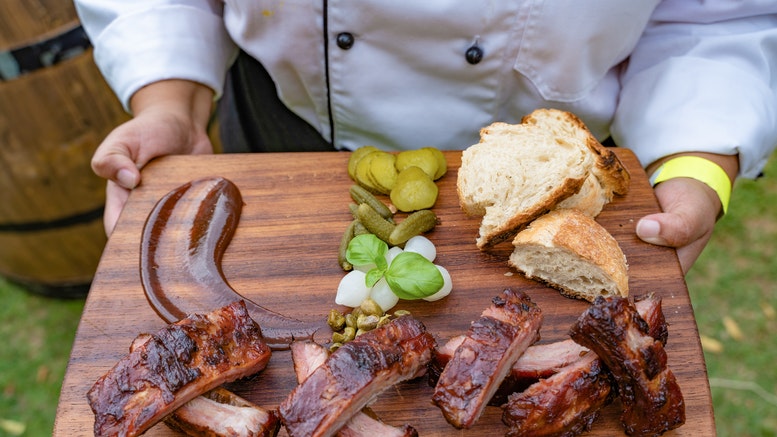 These sizzling spare ribs are not only fabulously tasty, but they're also super quick and easy to throw together. Make them for the family in just 30 minutes – the perfect recipe to use for a Sunday barbecue!
Take a look at the ingredients you'll need and the method you'll need to follow.
Here's what you'll need…
4 packs pork spare ribs
6 tbsp clear honey
1 bunch of spring onions , roughly chopped (green stems and all)
6 tbsp dark soy sauce
1 Scotch bonnet chilli , seeded and finely chopped
6 tbsp demerara sugar
4 garlic cloves , roughly chopped
6 tbsp Appleton rum
1 tsp ground allspice
6 tsp Dijon mustard
Here's what you'll need to do…
1.Tip the ribs into a big bowl (not a metal one) and throw in the spring onions, chilli and garlic.
2.Now spoon all the remaining ingredients over the ribs and sprinkle with salt and pepper.
3.Get your hands in the bowl and turn the ribs over and over again until they're coated in the sauce. (You can keep them uncooked – tightly covered – in the fridge for up to 3 days. You can also freeze them for several months.)
4.Cook them over a moderate barbecue for 20-30 minutes depending on their size, turning them over frequently and brushing with sauce each time.
5.Turning and brushing is important so that all four sides of each rib get encrusted with the sauce, which builds up like a lacquer.
6.If you have any leftover sauce at the end, heat it up in a pan and pour it over the ribs just before serving.
(Source: https://www.bbcgoodfood.com/recipes/sizzling-spare-ribs-bbq-sauce)