Tom Cruise Cake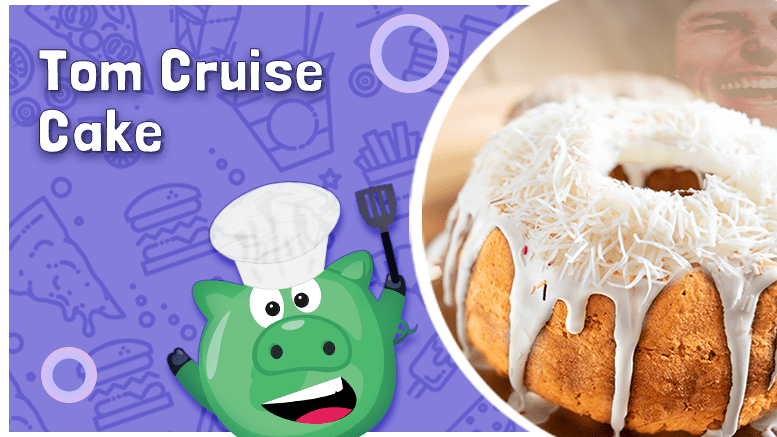 Now, you might be wondering, "What in the world is a Tom Cruise Cake?". But wonder no longer, we'll clear that up… it's a cake that can do crazy maneuvers in a fighter jet and scale insanely high skyscrapers. Does that clear things up? Good, moving on… OKAY FINE, it's not that.
The 'Tom Cruise' cake is a coconut bundt cake that the man himself sends to close friends and family every year.
To clarify: you won't find any secret agent gadgets or risky aerial stunts in this recipe. Instead, we'll embark on a scrumptious baking adventure that even your little ones can join in on!
What you'll need:
Cake:
3 cups all-purpose flour, plus more for flouring the pan
1/2 teaspoon salt
1/2 teaspoons baking powder
3 cups white sugar
1 cup unsalted butter, softened
6 large eggs, at room temperature
1 teaspoon vanilla extract
1 teaspoon coconut extract
1 cup sour cream
2 cups sweetened flaked coconut
1 cup white chocolate chips
Frosting:
4 ounces cream cheese, at room temperature
1/4 cup unsalted butter, softened
1 teaspoon vanilla extract
1/8 teaspoon salt
2 cups powdered sugar
2 tablespoons heavy cream
1 ½ cups sweetened flaked coconut
What you'll need to do:
Step 1:
To make the coconut cake: Preheat the oven to 350 degrees F (175 degrees C). Grease and flour a 10-inch Bundt pan.
Step 2:
Combine flour, salt, and baking powder in a large bowl; set aside.
Step 3:
Beat sugar and butter together in a large bowl with an electric mixer on medium until light and fluffy, about 5 minutes. Beat in whole eggs, 1 at a time, beating well after each addition. Add vanilla extracts, coconut extract, and sour cream: beat until combined.
Step 4:
Add flour mixture and mix until just combined; fold in flaked coconut and white chocolate chips.
Step 5:
Pour batter into the prepared pan and use the back of a spoon to spread batter evenly.
Step 6:
Bake in the preheated oven until a toothpick inserted into the center of the cake comes out clean, about 1 hour 25 minutes. Allow the cake to cool in the pan for 20 minutes before removing to a wire rack to cool completely, about 2 hours more.
Step 7:
To make the frosting: Add cream cheese, butter, vanilla, and salt to a medium bowl; beat with an electric mixer until smooth. Gradually add powdered sugar and slowly mix until incorporated. Add cream and beat until light and fluffy, about 1 or 2 minutes.
Step 8:
Frost the top and sides of the cake; lightly press coconut evenly around the outside.
(Source)