Qmee recipes – squash, chickpea & coconut vegetable curry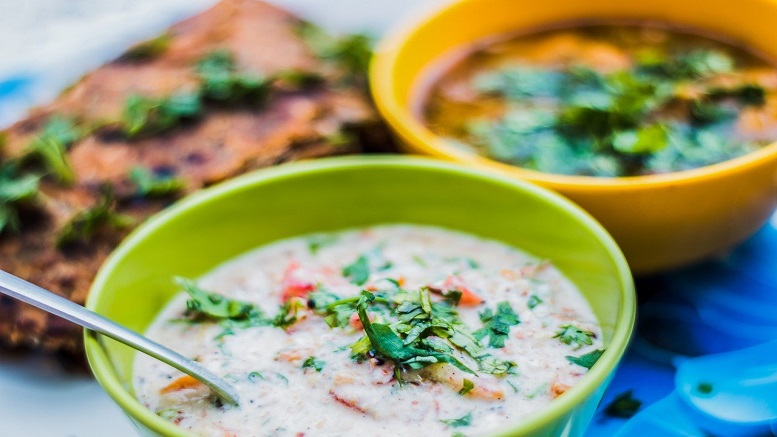 Vegetable curry is an absolute favourite (and not just for vegetarians!) – the flavours are often mind-blowing! So that's what we've chosen this week for our recipe – a squash, chickpea and coconut vegetable curry.
Have a go at cooking up this vibrant vegan curry that makes the most out of autumnal squash. It's ideal for a meat-free dinner when served with flatbreads.
Take a look at the ingredients and method below.
Here's what you'll need…
1 butternut squash, peeled, deseeded, cut into 2cm-thick slices
3 tbsp coconut oil
5 tbsp tamarind sauce
1 tsp chilli flakes
2 tbsp desiccated coconut
1 tsp black mustard seeds
1 tbsp dried or fresh curry leaves
1 red onion, sliced
Thumb-sized piece of ginger, grated
1 garlic clove, crushed
1 green chilli, sliced
1 lemongrass stalk, lightly bashed
400g can chickpeas, drained
1 large tomato, sliced
1 tbsp roasted curry powder (see ingredients below)
1 tsp turmeric, freshly grated if possible, or use 1 tsp ground
400ml can coconut milk
3 large handfuls of kale
Small bunch of coriander, leaves picked
2 tbsp toasted coconut flakes (optional)
Flatbreads, to serve
For the roasted curry powder…
10g basmati rice
20g coriander seeds
15g cumin seeds
10g black peppercorns
5g fenugreek seeds
Half tsp cloves
Half tsp green cardamom pods, seeds only
Here's what you'll need to do…
For the curry powder, heat a small frying pan over a medium heat and toast the rice, stirring, until it starts to brown. Tip in the rest of the spices and toast for 3-5 mins until brown but not burned. Using a spice grinder or pestle and mortar, blitz or grind to a fine powder. Pass through a sieve. Will keep for up to three months in an airtight container.
Heat the oven to 200C/180C fan/gas 6. Toss the squash with 1 tbsp of the oil, a pinch of salt, 3 tbsp of the tamarind sauce, the chilli flakes and coconut. Spread out on a baking sheet and bake for 35-40 mins, or until tender.
Heat the remaining 2 tbsp oil in a wok over a high heat. Fry the mustard seeds for a minute or so until they sizzle and pop, then add the curry leaves and cook for a few more seconds until they crackle. Add the onion, ginger, garlic, chilli, lemongrass and a pinch of salt and stir for a few minutes until the onion softens. Tip in the chickpeas, tomato, curry powder and turmeric and keep stirring for 5-8 mins, until the tomato breaks down.
Pour the coconut milk into the wok and stir, cooking for about 5 mins until slightly reduced. Add the remaining 2 tbsp tamarind, taste for seasoning, then add the kale, stirring for a couple of minutes until softened. Divide the squash between bowls, ladle in the curry sauce, then top with the coriander and coconut flakes, if using. Serve with warmed flatbreads.
(Source: https://www.bbcgoodfood.com/recipes/squash-chickpea-coconut-curry)