The TASTIEST Vegetarian Chili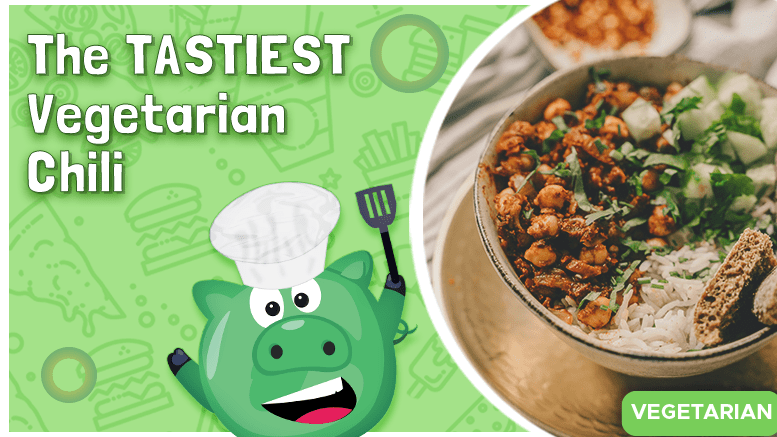 Attention all foodie explorers! Are you & your taste buds ready to take a first-class ticket to Flavorville? Well, all aboard, because today's recipe is a wild ride! We're talking about a delicious, veggie-packed chili that's sure to make even the biggest of meat-lovers claim "This is impossibly tasty!", but there's certainly nothing impossible about making this vegetarian chili, that's for sure!

This vegetarian chili is a celebration of all things delicious and nutritious, and it's going to be your new best friend for these winter months, because without it, those chili nights indoors just wouldn't be the same!
What you'll need:
1 tablespoon olive oil
½ medium onion, chopped
2 tablespoons dried oregano
1 tablespoon salt
1 teaspoon ground cumin
2 bay leaves
2 stalks celery, chopped
2 green bell peppers, chopped
2 jalapeno peppers, chopped
3 cloves garlic, chopped
2 (4 ounce) cans chopped green chile peppers, drained
2 (12 ounce) packages vegetarian burger crumbles
3 (28 ounce) cans whole peeled tomatoes, crushed
¼ cup chili powder
1 tablespoon ground black pepper
1 (15 ounce) can kidney beans, drained
1 (15 ounce) can garbanzo beans, drained
1 (15 ounce) can black beans
1 (15 ounce) can whole kernel corn
What you'll need to do:
Step 1
Heat the olive oil in a large pot over medium heat. Stir in the onion and season with oregano, salt, cumin, and bay leaves. Cook and stir until the onion is tender; stir in the celery, green bell peppers, jalapeños, and garlic. Add the green chile peppers and cook until they've heated through. Then, stir in the vegetarian burger crumbles; reduce the heat to low, cover the pot, and simmer for 5 minutes.
Step 2
Stir in the tomatoes; season with chili powder and black pepper. Then, stir in the kidney beans, garbanzo beans, and black beans. Bring it to a boil, reduce the heat to low, and simmer for 45 minutes.
Step 3
Stir in the corn, and continue cooking for 5 minutes before serving.
(Source)