Qmee Recipes – Veg & lentil soup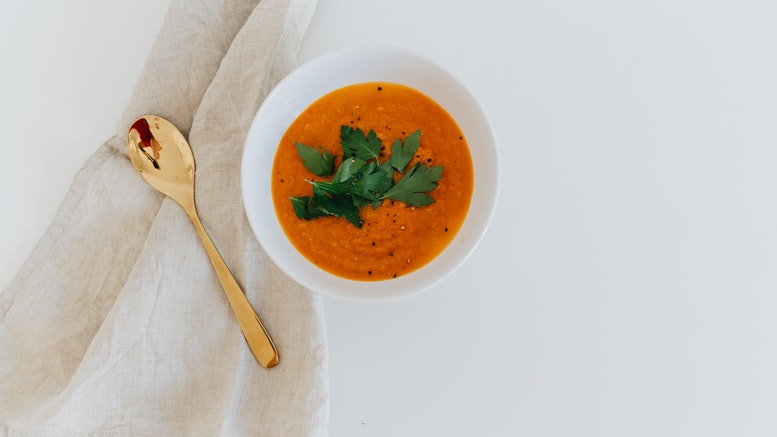 Lots of us make New Year's resolutions to take care of our bodies more. This normally means eating healthier, drinking less alcohol or fizzy drinks and getting more exercise. For many of us, these habits don't come naturally, so sticking to them can be problematic to say the least.
So, here at Qmee, we thought we'd try and make the healthy eating a bit less painful. We found a tasty, but good-for-you recipe for a vegetable and lentil soup. However, if you're feeling less healthy on the day you try this recipe, we think it would be delicious with some fresh bread and butter! 
This recipe is perfect for a winter evening, and if you're in a rush can even be put in a slow cooker for the day.
Serves 2
For the soup…
½ cup dried red lentils
2 carrots, quartered lengthways then diced
3 sticks celery, sliced
2 small leeks, sliced
2 tbsp tomato purée
1 tbsp fresh thyme leaves
3 large garlic cloves, chopped
1 tbsp vegetable bouillon powder
1 heaped tsp ground coriander
What you need to do…
-Tip all the ingredients into a large pan.
-Pour over 1½ litres boiling water, then stir well.
-Cover and leave to simmer for 30 mins until the vegetables and lentils are tender.
-Ladle into bowls and eat straight away, or if you like a really thick texture, blitz a third of the soup with a hand blender or in a food processor.
If you enjoyed this soup recipe, then check out this meatball and tomato soup!
(Source: https://www.bbcgoodfood.com/recipes/winter-vegetable-lentil-soup)